QuarDecor The Store is in business! I finally finished
another freebie revamp.
Last month I found
this dresser on the side of the road
(along with
some other useful things
).
So I took a
page out of my favorite book
and repainted it white, after stripping the paint, sanding it down and priming it, of course.
I just
posted it on Craiglist for $35
. It has a few imperfections, but it looks a lot better than it used to.
I learned a lot during this fix up, I made a few mistakes that I will try to avoid again. I am getting better at mapping out my steps in the furniture fix and paint process before I begin.
Next time I will try to use wood putty to fill in any nicks and chips in the old wood surface, and sand it down smooth before priming.
I also realize now that primer is VERY difficult to get off paint brushes. Every time I try to clean primer off a brush, it gets all over my hands (and in my hair), but never off the brush, so I have to throw it away :( From now on I am going to use disposable paint rollers to apply my primer coats. Lessons learned! I hope everyone has a wonderful Memorial Day Weekend. Feel free to follow me on Twitter to see what I'll be up to!
@TheresaMcCabe
Do you like this furniture fix up? Then Pin It Please!
Linked up: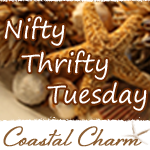 Check a few of my popular DIY projects: